I'll be also talking about how it compares to other video editors available in the market.
Let's go ahead and jump right in.
Wideo Templates
So here we are at my Wideo dashboard and here are the different templates that you can see.
We have templates like:
Product presentations
App explainer
Health app
App demo
Real estate promotion
Logo animation template
Wideo resume
Special offer video
Short video review
Video ad
And many more
Wideo offers over 80 templates to choose from so that's a lot.
However, the templates are nearly as good as in other video makers like InVideo that I've also reviewed on this blog.
And this is perfect because it gives you ideas on what you can use this tool for.
So let's go ahead and look at one that I previously created.
Wideo Video Maker Tutorial
So here I created an app product introduction.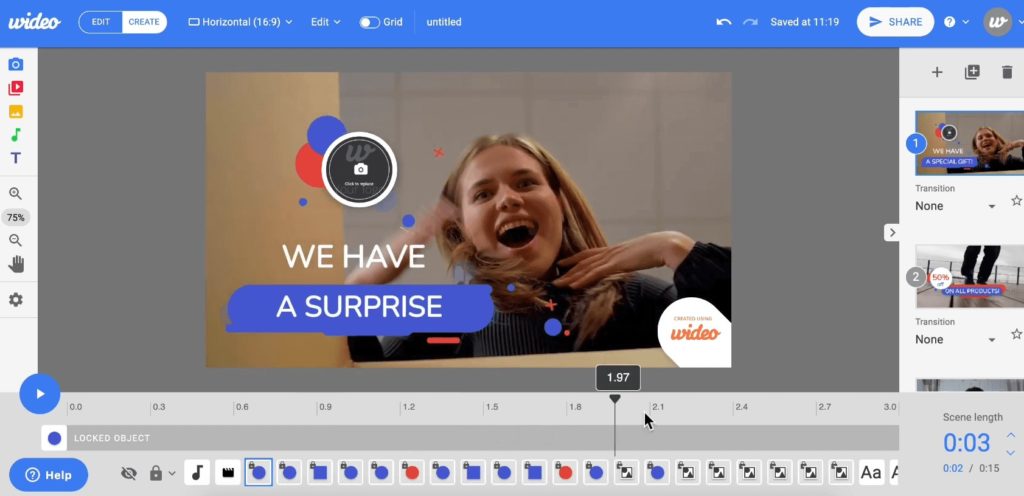 And any time that you're using an object, it'll appear on the bar as well to show you how you can edit it and how you can make it bigger or smaller, make it last longer if you need to.
So, the way that the tool works is that the bar section is basically the length of the video.
And if you click on the video, you get to further see different objects that you can edit.
This is one of the things I don't like about Wideo is that they don't have a timeline based on stacks as you can see in tools such as WeVideo (read more in my WeVideo review)
So we don't see all the tracks in the timeline. This is something I do like because this is what I use when I edit videos.
On the top settings, you got video sizes.
16:9 would be what we use for Facebook and YouTube, which is a rectangle.
Then, we've got the square which is something most popular social media platforms use square.
Next, you got vertical, which is the story mode.
And one thing you have to consider is that when we change one of these dimensions it's not going to update the template so we have to manually drag this around and fix them for the square one.
So that's no good for us.
But what's cool is you can unlock the specific object and then you can edit that one and change it as much as you want to and then when you're done, you can just go ahead and lock it.
So that's pretty neat that you can do that just so that while you're working on another one, you're not messing up the previous one and it kind of just stays there.
You also have the music with the templates so there's already music that goes with it but you can change it, of course.
And then you can just insert any type of media like:
Image
Video
Background
Sound
And the different text as well.
Here is the text that you can edit.
I can choose the frame, the in and out, basically the transitions of it going in and out and the size, the font, and the keyframe.
So, there's quite a bit you can do with that. It really depends on the template.
And then on the right-hand side, you have different transition videos as well, to add to your scene.
So, you can look at other scenes that are given in your template.
And you can also replace the main image since they have a pretty extensive image library.
I really like the animations that they give with the templates. I feel like it just makes it a lot more professional in my opinion, and just seems like you put a lot more work into your videos.
So that is quite interesting. So, to recap, you can edit the different objects on the template by unlocking them and then lock them whenever you are done.
You can change the sound and change any media. You can change the text like the font, and as well as with any of the elements. You can change the transitioning, the length time, et cetera, and so forth, and you have different scenes to choose from.
When you're ready to view you just preview the scene or you can preview the video which will take up the whole screen to view.
Wideo Pricing
Wideo offers 4 pricing plans:
Free – $0/month
Basic – $19/month
Pro – $39/month
Pro+ – $79/month
And this is by annually; you can see the monthly as well.
And overall, it's based on the number of templates that you can view, the length of the templates and the branded videos, and downloaded videos.
So, one thing that I would like to note is that I really don't like the basic plan because it goes from one minute to 1.5 minutes. And that really depends on what you're using this tool for.
If you're using this tool for a quick demo or a quick presentation of a product then that's a good length.
And if you would want it for a longer length, then it sucks that you can't use the basic plan and you would have to automatically jump to the pro or the pro+ if 10 minutes isn't enough either.
So that's the only thing that I would like to note about the time length. I feel like this should be a little bit longer than 1.5 minutes.
Wideo Pros & Cons
So, let's go ahead and see the Wideo pros and cons.
Wideo Pros
For my pros, I really like that it's very easy to edit individual elements. Whenever you get a template, you are allowed to edit those animations within them.
I like that they don't limit the animations and you can just make it as creative as you want to.
And this is just perfect for demos, presentations or announcements, different things like that. If you want to keep it within your team, or if you want to showcase it on your website and just promote.
So, there are so many ways you can use this tool.
Wideo Cons
One thing I don't like about Wideo is the templates are not as high quality as in the other video makers.
Who Is Wideo For?
Wideo is a great option for content creators, brands, and agencies. 
They claim this is an alternative to Powtoon and Animoto but, to be honest, this is not an alternative to those softwares.
Wideo is more of a video editor instead of an animation editor because it doesn't have any animations as you would see on Powtoon so this is more like a video editor so keep that in mind.
Wideo Review Final Words
So that is my honest Wideo review. It's a video editor with the keyframe, that's what makes Wideo special.
So if you need to decide if you should get this tool or not, first you have to consider do you have a video editor?
If it's a no, then it's good software because you have a video editor with templates and all that.
But if you need stock images to accomplish a final video, then this could not be a good deal for you. For this price, you will be better off with tools such as InVideo which is my personal favorite video maker.
And if you have other video editors that don't have keyframes and that's something that you're looking for, then Wideo could be a good video editing software for you.
The post Wideo Review [2021] Pros, Cons & Alternatives appeared first on Business Solution.
Go to Source of this post
Author Of this post: Patryk Miszczak
Title Of post:
Wideo Review [2021] Pros, Cons & Alternatives
Author Link: {authorlink}