In this WeVideo review, I'm going to walk you through this video maker step by step to show you how it works. And if you want to work along with me, here you can try WeVideo for completely free.
Let's get started.
WeVideo Tutorial
First of all, it's important to know that you need the Chrome browser to use WeVideo. And you can need to start a video from scratch with a horizontal square or vertical aspect ratio, or you can start with a template.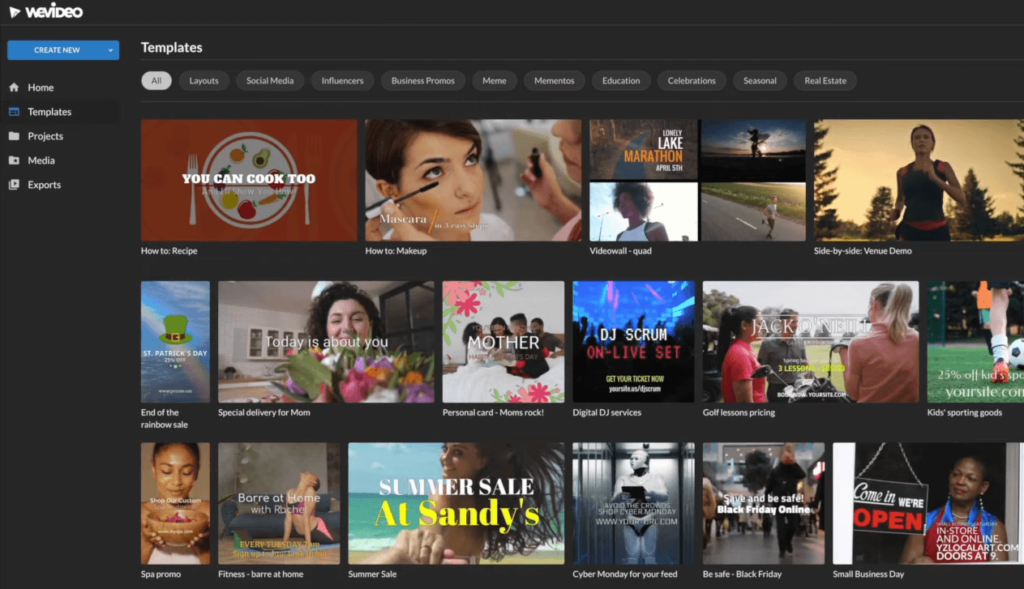 There's a bunch of templates to choose from so that you can see the different types of templates that WeVideo offers to you.
And these templates come with the stock video, and then you can obviously modify the text or you can place the video very easily on your own.
In this WeVideo review, I'm going to show you how to create a video from scratch, building our own project so that you'll know what you can expect from this platform.
Let's take a quick tour of the interface right now.
First, there is a tab for stock media.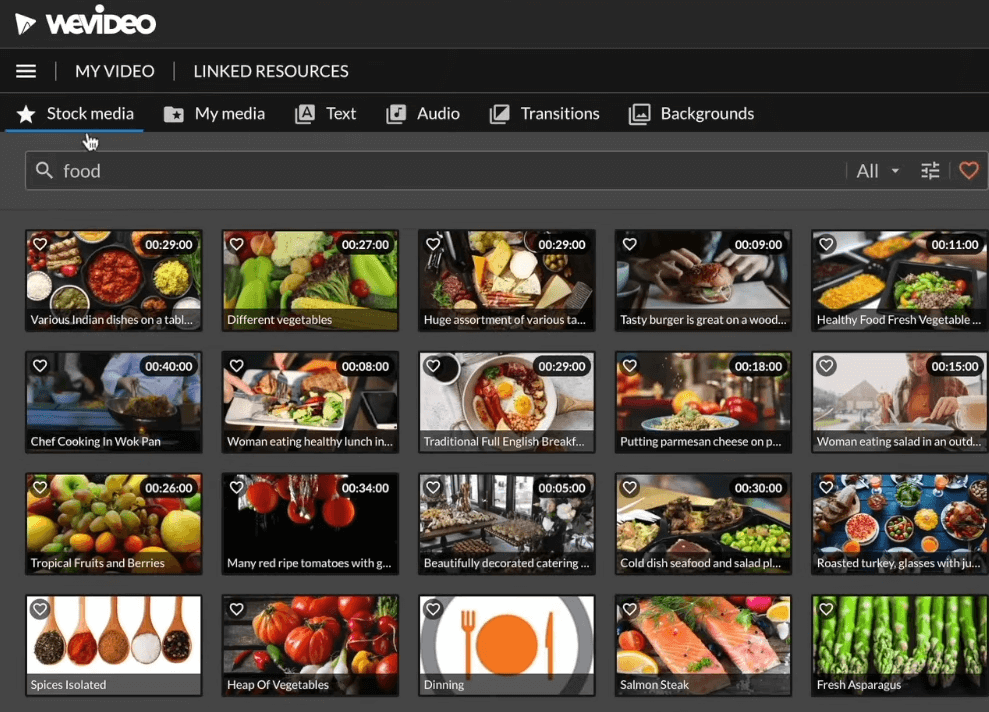 And it's important for you to know that this stock media is not included in the unlimited plan that I'm working on right now, and it isn't an upgrade to be able to export videos that include this stock media.
So, you can create a project with it, but when you go to export your video, it tells you that if you want to use these clips, you need to upgrade your plan.
That is definitely something important that you should know.
And these are the motion-moving dynamic text templates that come with WeVideo.
And if you want to preview them, you just click at the thumbnail and then draw your attention to the right side of the screen so you can see what the action is.
And I have to say, I really like the motion on these text templates. I think they're very nice, they're very modern, and there's a lot of them.
Now let's head on over to audio.
In the audio tab, you'll find pre-licensed music tracks that you can use in your projects. There are also sound effects as well.
What I like is that you create an adjustable keyframe to modify the volume level in the clip similar to other tools such as Wideo.
Next step, we have transitions.
So, once you've laid into clips, you can transition between the two of them.
And again, if you want to preview what the transition looks like, you just click on it, really simple.
And then lastly, there are backgrounds.
Some of these are kind of "not bad" but some of them are nice.
Here you'll find solid color backgrounds, overlays, a little graphics that you can drop in over your videos.
And then frames are just static frames that you can put around your video.
On the bottom is your timeline where you're going to have the layout of your video.
And this is where you're going to drop all your clips.
Let's start creating our first video.
Here are some of the videos that I uploaded into the WeVideo video editor.
The videos are in the cloud, let's say, once you upload them, and so the playback here isn't super high resolution, but when you export, they are high resolution.
So, this just helps WeVideo run faster to show you a lower resolution preview.
And if you want to upload videos into WeVideo, you can simply just drag and drop a clip and it begins the upload process.
Now I'm going to drag the first clip I want into my first video track.
You see, I have two available video tracks.
And then once I have dragged in my clip, this clip is very long; it's 45 seconds.
If I don't want that clip to be so long I can just trim it up by grabbing the edge of the clip in the timeline.
And if I want to make modifications to this clip, like do some light color correcting, I just double click it, and I get a lot of different options and the first one is, "transform."
So, I can flip the clip around, I can reverse it to make it upside down, or flip it back and forth.
In the next tab, we have the crop feature so you could crop your video, you can move the crop around.
Then, you can mute the audio or reduce or raise the audio level. You can hit mute and have it fade in at different half-second interval durations or fade out the same way.
Now let's select the next tab. It's actually color keying.

That means if you had a green screenshot; so, you shot someone over a green screen, and then you wanted to drop something into the background, this is where you would do that.
This next one for me is probably the most important. This is where you're going to get to do some of your color correction.
So, here I can boost up the saturation and the contrast on this shot which is cool.
The temperature is interesting.
The temperature means the color temperature of the lighting.
And usually, warmer temperatures indicate indoor lighting or late in the day, like golden hour lighting, and then blue temperatures are more for daylight and cooler temperatures.
So, you can really change the way that your video is interpreted by changing this color temperature.
And then in this last window, you can actually change the speed of your clips. So, you can either speed it up or slow it down.
So I've dropped in, trimmed up, and color-corrected all of my shots.
The next thing I want to do is add some motion text.
So, let's go on now to the text tab and select a text option. I am going to select "bada boom" and I can drag it and drop it on my video to the line.
And here is where I can change the color, I can change the font and I can obviously change what the words say.
So, the first thing I'm going to do is change this text.
Now it's important to note that these are not the fonts that I have installed on my computer.
These are the ones that come with WeVideo.
So we can scale it up by hitting manual and raising this number bit by bit, or we can just manually type one in.
We can change the colors of these fonts and things like that.
Next, I can add some transitions between some of these shots.
In order to add transitions, it's very simple. You can just head on over to the transitions tab, and like we saw before you can preview the transitions.
Now, if we want to add an overlay onto this shot we actually need another video track.
Let's add some music to finish it up. I'm going to select the audio tab here in my bin.
So, to do that, you just hit this plus sign and you can either add another audio track or another video track.
You're going to head on over to these three little dots here, and we're going to select show levels, and then we can actually play with the audio levels.
So, we want it to be full volume at the beginning, but then at the very end, we're going to click along that blue line and dial down the volume so it fades.
You can drop across fade at the end of that clip so the clip itself fades out with the music.
So that's how you make it sound and look more professional.
Let's create a new video and let's try to play with that color keying feature.
Keying is hard, and sometimes, even if you do a really good job lighting your shot, depending on someone's clothing or their hair, if they've got curly hair, it's really hard to get a clean cutout on a person.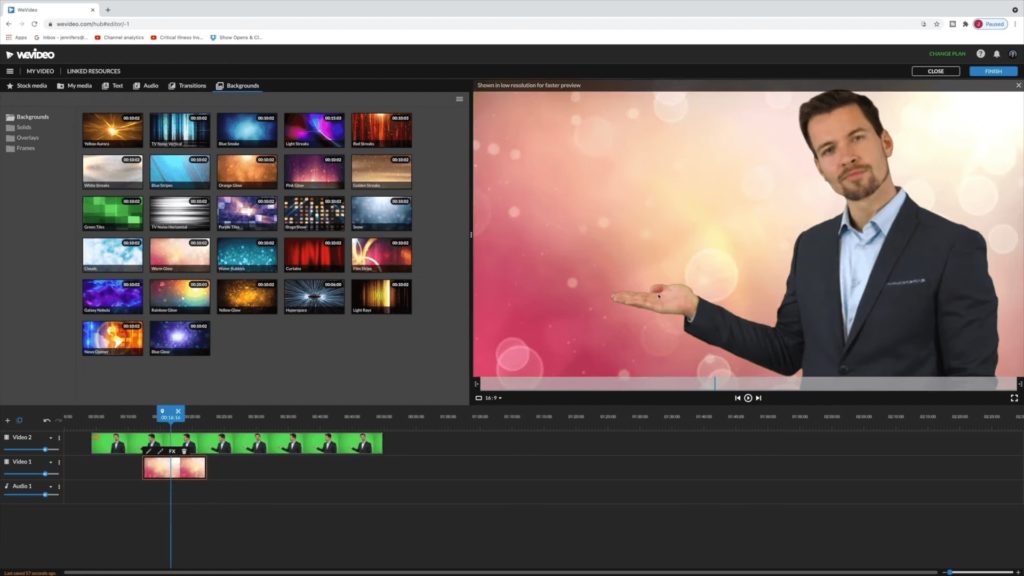 And I don't think this color keying feature has, in my opinion, enough controls and settings here in this feature to really be able to fine-tune that color keying.
So a lot of people might not notice that, but as a pro that is one of the things I look for.
So, I wouldn't say it's great, but it is nice to have this feature if you ever wanted it. So that is definitely a plus with WeVideo again.
Now we're ready to export this video, so you can head on up to the top and select finish.
I can just simply give it a title and export in 4k because that is what the video was shot in.
And it's going to take a while to export.
All the rendering is done in the cloud, which is a lot slower than if you had been doing it on your desktop.
And I just want to show you something real quick.
So, that's how to create a video using WeVideo.
Obviously, I was working with a great rob b-roll that I really love, so that always helps.
But I think that the additions I could make in WeVideo with the transitions, with the text, with the little glitter overlays really stepped it up a lot.
WeVideo Pricing
WeVideo offers 4 different pricing plans:
Power – $9.99/month
Unlimited – $15.99/month
Professional – $39.99/month
Business – $73.99/month
With the annual plans, you can save up to 50%.
I'm personally on the unlimited plan.
They have a lot of different plans for a lot of different budgets, and I'm kind on the mid-tier budget right now.
WeVideo Review: Is It Worth It?
So let me give you my final thoughts on WeVideo. I think this is a great live-action editor.
If you are not a professional editor, but you have ideas and you want to be able to execute your vision, I think this is a great option for you.
There are a lot of templates, but if you want my honest opinion, I don't think the value in WeVideo is in the templates.
I think it's in the functionality of the platform that you can add multiple video and audio tracks, that you're not locked into templates where you can't really change like the font or the layout or anything like that.
There's so much flexibility in WeVideo; I love that very, very much. I love that you can drag and drop your own media and you can actually start editing with it right away even if you are waiting for that media to finish uploading.
I love that you have an option to export in 4k. I don't see that a lot online and I love it very much.
So, I would say WeVideo is definitely a great platform.
I really hope you enjoyed this WeVideo review and tutorial.
The post WeVideo Review & Tutorial [2021] How Good Is This Video Editor? appeared first on Business Solution.
Go to Source of this post
Author Of this post: Patryk Miszczak
Title Of post:
WeVideo Review & Tutorial [2021] How Good Is This Video Editor?
Author Link: {authorlink}